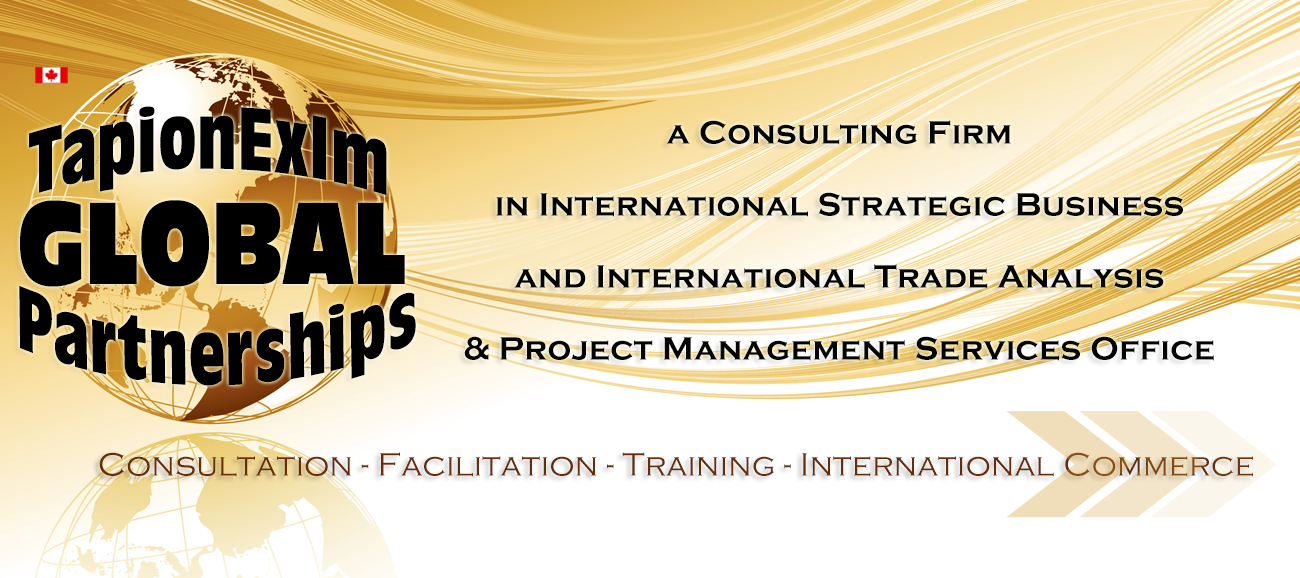 International Trade Missions
TapionExIm offers an expertise in the organization and coordination of International Trade Missions. We understand that faster-growing emerging markets and developing countries need technology foreign expertise and service providers to develop their light industry, manufacturing and service sectors.
These above-mentioned sectors need investments as well in broad range of industry groups for specific reasons. These foreign direct investments (FDI) are well needed not only to implement business processes, but more so to develop training programs for skilled labor, and to develop those processes with a view of becoming sustainable community development across the global integrated supply-chain. This will ensure a sustained economic growth and prosperity for Canada as well as those industrialized economies and the 11 major emerging-market economies in the Group G20 and developing economies which are becoming major players in this new era of the digital globalization of economies.
Priority sectors in need
Because of our very strong knowledge of international markets, we, at TapionExIm, are specializing in guiding Canadian companies who wish to contribute with their expertise to one of the following priority sectors as stated in the diversification foreign markets plan such as Canada's Strategic Export Priorities, the Ontario's Global Trade Strategy and the Export's Québec – Develop New Markets Outside Québec:
Agricultural, Food & Beverages
Agricultural, Technology and Equipment
Agriculture and Processed Foods
Bio-Industries
Bio-Marine Industries
Business, Professional and Educational Services
Business Process Outsourcing (BPO) and Information Technology and Communication
Construction and Infrastructure (Bridges and Roads, Modern and Sustainable Roads Stations)
Exportation and Importation Education
E-Commerce/E-Business
Environmental Green Technologies: Fight against climates change, Reforestation, etc.
Forestry and Wood Products
Fish and Seafood
Geomatics Services (GIS) for Environmental Management
Health and Social Housing (making healthcare and housing more accessible and affordable, especially in rural communities)
Industrial Machinery
Information Technology and Telecommunications
Ocean Technologies
Recycling & Waste Management
Renewable Energy
Sustainable Technologies (sometimes called Cleantech)
Textile and Apparel Management
Transportation, Supply Chain & Logistics Management (Air Cargo, Road Stations, Maritime Freight Lines)
Tourism
Urban Development and City Services Management
Water Sanitation
Wine, Beer and Spirits
Canadian Foreign Direct Investments (FDI)
These Canadian foreign direct investments will largely benefit these sectors as they will improve the know-how of local skilled workers therefore increasing their productivity in the target foreign market. They will ultimately stimulate sustainable economic growth through the establishment of joint venture enterprises which will be led by local entrepreneurs and foreign investors.
Our next international trade mission will focus on the northern industrial economic zone of Haiti who has several entrepreneurs and investors, local leaders of the Chambers of Commerce and Industry and local workers ready to take up the challenge of partnering in a strategic alliance with small and medium sized enterprises, as well as with large Canadian companies.
Trade is vital to Canada Economy
Our goal is to explore the new marketplaces through international trade missions. This can present excellent and finding good business opportunities for export and import markets for trade in these products Value-added, high-quality goods and services in developing and emerging economies. We will also make these type of arrangements for business-to-business meetings with potential partners to introduce these Canadian entrepreneurs for networking opportunities to various economic players in the local business community in the target foreign country.
Lastly but not least, we, at TapionExIm, are assisting your business whether is in manufacturing and advanced technology or in the service sector to find out how international trade missions can best fit into your overall business strategy.
Benefits of an International trade missions:
Grants
Tax credit
EDC's credit insurance
Advise
Guidance