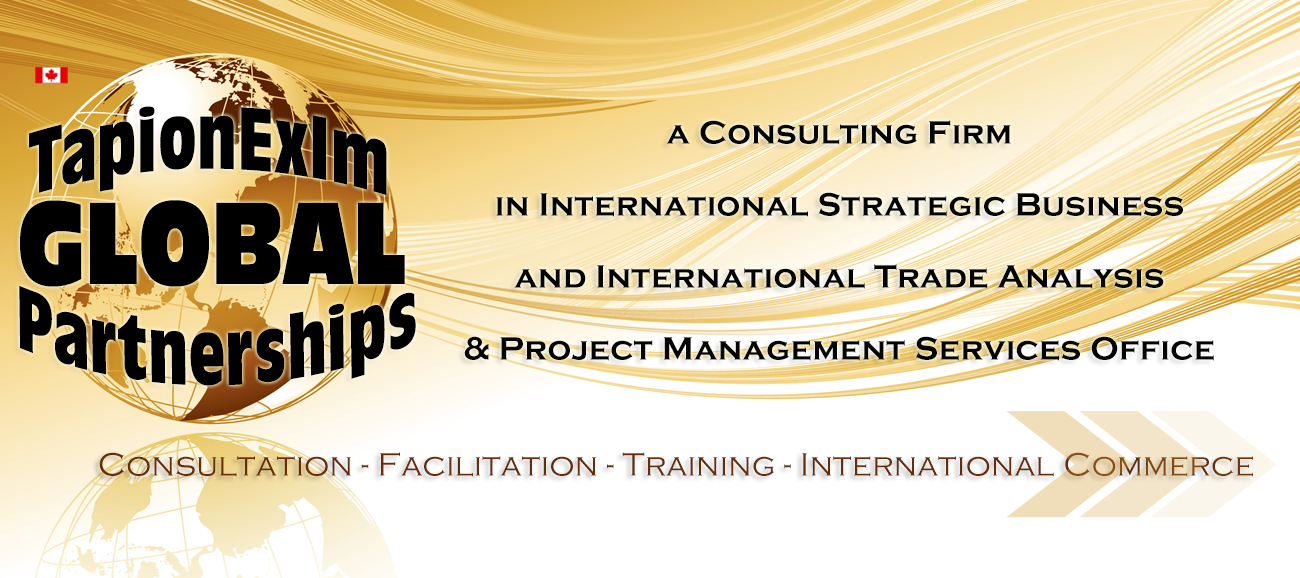 Whether your business is in manufacturing and advanced technology or in the service sector.
Support SMEs in their efforts to explore other trade opportunities for export and import markets for trade in value-added manufactured goods, goods and services.
Since most of the Canadian economy is based on micro and small and medium-sized enterprises (MSMEs) that do not have necessarily the human resources in-house to develop an International Business Management Department. For this reason, TapionExIm Global Partnerships' International Trade Services firm has positioned itself to equip these MSMEs with regard to the management of International Trade in the main foreign export / import markets commodities, goods and services among key trading nations in several regions of the globe and accompany them if problems arise along the way.
We assist managers and executives, and responsible for the development of markets for Canadian small and medium-sized enterprises (SMEs) commercial, medium-sized establishments (MSEs) as well as institutions and organizations of every size and shape to benefit from trade policies, in equipping them with leading-edge skills; to provide advice and guidance to ensure the successful management of your operational projects focusing on the foreign export/import markets for your goods and services as well in order to face the challenges of launching renegotiations of the foreign markets' access by free trade agreements in the context of the digital globalization of economies.
E-Commerce / E-Business Projects
Nowadays, commercial transactions are happening at the speed of light . Without eCommerce, one would simply set himself up for failure. Any business needs to adopt eCommerce. It is no longer choice.
Diagnostic Export Report
Too many people take too lightly the idea of exploiting international markets. They sometime think that it might be as easy as selling and distributing their products in a local market.
International Market Intelligence Research
Understanding the market you are about to enter is not only necessary before taking any action, but key to ensure the success of any export effort….
International Marketing Plan
People's behavior differs as you travel throughout the world. All of us having a different cultural background, we all react differently to marketing strategies. Make sure you adopt the right approach when entering new market.
International Business Plan
Companies wishing to expand and explore new markets will immensely benefit from an International Business Plan developed by Leslie J DesRosiers' team.
Customs compliance
This is one of the nebulous area when it comes to exporting goods and services. Complying with customs rules and regulations will save you some headaches down the line.
International Trade Missions
TapionExim offers an expertise in the organization and coordination of  International Trade Missions. We understand that developing countries need foreign expertise to grow.
Coaching & Training
FITT is the world's leading export-import training and certification expert.
Whomever gets certified by FITT becomes a recognized international export/import expert.